July 23, 2014
i should not be laughing this hard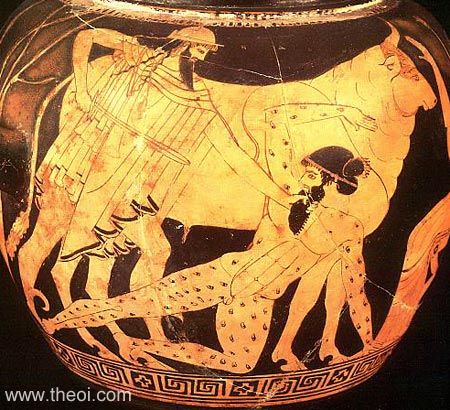 hey there argus panoptes lookin good bro
(Source: epiphanyvisuals, via korraphobia)
July 21, 2014
Anonymous said: why do black people use you in the wrong context? such is "you ugly" instead of "you're ugly" I know u guys can differentiate, it's a nuisance
you a bitch
It's called copula deletion, or zero copula. Many languages and dialects, including Ancient Greek and Russian, delete the copula (the verb to be) when the context is obvious.
So an utterance like "you a bitch" in AAVE is not an example of a misused you, but an example of a sentence that deletes the copular verb (are), which is a perfectly valid thing to do in that dialect, just as deleting an /r/ after a vowel is a perfectly valid thing to do in an upper-class British dialect.
July 20, 2014
This week's Sumerian word is šum2, which means garlic. The Sumerians were quite fond of garlic and onion-y things. In Inanna's Descent, the goddess Ereshkigal's hair is described as bunched-up "like leeks".

As always, the cuneiform comes from the Pennsylvania Sumerian Dictionary.
July 13, 2014
Sumerian Sundays are back, after a teensy-weensy two-year absence. I blame the nation of China, personally.
This week's word is da, which means "side." The character is supposed to represent a person's hand, arm and shoulder (the hand is on the left, and the shoulder is on the right).
The cuneiform comes courtesy of the Pennsylvania Sumerian Dictionary.
July 12, 2014
Smoke
There was a fire here a few days ago.
Near Wuyi Square, a popular shopping area in downtown Changsha, a building caught fire. Smoke snaked upward and could be seen for miles, even through the haze of pollution.
The papers don't mention the fire. It wasn't in the news—-on television or the radio or the internet.
That's typical in China. Anything that makes the people in power look bad cannot be written about in the news.
A few years ago, there was a horrible train accident. The government didn't allow reporters to cover the event, fearing that news would make the ministry of transportation lose face. Local officials even went so far as to try to literally bury the evidence, piling dirt over the mangled train cars.
This is part of why corruption is so widespread. It's much more tempting to be shady when you know you won't get caught.
Nobody knows what started the fire.
July 11, 2014
seriously what is even the point of little minifridge freezers
like,
oh thank heavens i desperately needed to freeze HALF an ice cube tray
July 10, 2014
The oldest song in the world
July 10, 2014
"Shall I compare thee to a Summer's Eve?
Thou art more churlish and intemperate.
Fine words don't camouflage a nasty peeve,
and someone here is past their sell-by date.
Sometime puffed-up a head too far refined,
and charm supplanted by a deathly prim;
and civil words that cloak a heart unkind
by chance (and nature's winnowing) too dimmed.
So thou, eternal bummer, can go fade
just like the reverence you think we ow'st;
as those you would have led now throw you shade
for every portion of manure you throwest
so long as lungs can breathe, or eyes can see,
and you post tweets in insipidity."
— Chris Clarke, "A Sonnet for Dawkins"
July 8, 2014
We go forward.
Not going to lie. This affected me much more than I expected it to.
(via solarpillar)
June 30, 2014
Safe/unsafe
Things I have done in China in the past year that have not caused me injury:
Accepted a ride in a mysterious black car driven by a total stranger who does not speak my language. Multiple times.
Ridden on the back of an electric bike driven by an unlicensed moto-taxi driver who, again, does not speak my language.
Ingested unidentifiable food from an unlicensed street vendor who probably cooks with gutter oil.
Leaped from a moving bus.
Gotten into a screaming match with a would-be pickpocket.
Things I have done in the past year that have caused me injury:
Opened a cup of yogurt.
Peeled carrots for carrot sticks.
Walked across a living room that had a coffee table in it.
Sang at a karaoke bar.
Breathed air in Beijing.
Conclusion: life in China is dangerous. But the biggest danger of all is my own dumb self.